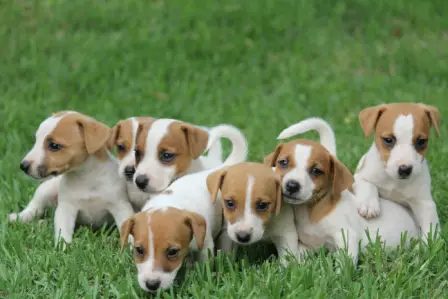 I have Jack Russel puppies ready to leave for their new LOVING homes. These puppies are not registered or dewormed as yet.
Available 1st June 2013.
Email me for Pictures at *removed*
Call Martin
*removed*
Jack Russells in Johannesburg
Jack Russells love to run and bark and jump and play. They have (almost) endless energy. So if you're going to leave your furry babies at home while you go to work, expect complaints from neighbours. Especially if you live in a typical Johannesburg complex or apartment building.
Jack Russells are great dogs for the Johannesburg lifestyle as they're small which means they can live almost anywhere. You still should give them plenty of exercise, though, as they really need it and will misbehave like mad if they're not getting it.
Staffies in Joburg
Staffies are pretty small dogs. They happily live inside or outside. And you won't have a problem getting permission to have 1 or 2 of them in a complex. So Staffies in Johannesburg are a great choice.
Just remember to give them lots of attention and lots of reasons to stay home instead of jumping over the wall, looking for excitement.
That means buy them toys, rotate the toys week to week and teach them to entertain themselves when you're at work.
Boerboels in Johannesburg
Boerboels require space. So if you live in a normal house with a wrap-around garden, you should be fine with a Boerboel. But there's just generally not a lot of garden space in most houses of Johannesburg.
You also want to keep in mind that Johannesburg isn't a very safe city. Dogs get poisoned all the time. Boerboels are big "outside" dogs. If you're okay with bringing in your dogs at night, they should be safe but then watch them when they go out in the morning as tsotsis might have left poisoned food in the far corners of your garden. This applies to all dogs of course but especially bigger "scary" dogs, in the eyes of the tsotsis.